2019 – Highlights From Week #6 2019 Winter Travel League Scores
2019 – Highlights From Week #5 2019 Winter Travel League Scores
2019 – Highlights From Week #4 2019 Winter Travel League Scores
2019 – Highlights From Week #3 2019 Winter Travel League Scores
2019 – Highlights From Week #2 2019 Winter Travel League Scores
2019 – Highlights From Week #1 2019 Winter Travel League Scores

2018 – Highlights From Final Week 2018 Winter Travel League 50-bird Trophy Shoot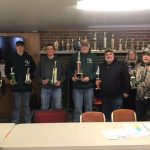 ---
2018 – Highlights From Week #1 2018 Winter Travel League Scores Week #1
2018 – Highlights From Week #2 2018 Winter Travel League Scores Week #2
2018 – Highlights From Week #3 2018 Winter Travel League Scores Week #3
2018 – Highlights From Week #4 2018 Winter Travel League Scores Week #4
2018 – Highlights From Week #5 2018 Winter Travel League Scores Week #5
2018 – Highlights From Week #6 2018 Winter Travel League Scores Week #6
2018 – Highlights From Week #7 2018 Winter Travel League Scores Week #7
2018 – Highlights From Week #8 2018 Winter Travel League Scores Week #8
2018 – Highlights From Week #9 2018 Winter Travel League Scores Week #9
2018 – Highlights From Week #10 2018 Winter Travel League Scores Week #10
---
August 25, 2018 – ATA Shoot
September 30, 2018 – Memorial Shoot

On October 1st, 2017, the Olean Rod and Gun Club held their Annual Memorial Trap Shoot in honor of the Trap Shooters who have passed away.
All proceeds from the Shoot go to the St. Judes Children's Hospital.
The following participants scored the highest in their respective categories:
Champion – Dan Tartick
High Women – Tiffany Decker
High Junior – McKenzy Glover
---
Winter Trap League Photos 2016-17

Winter Trap League Photos 2015-16

Lou provided the above photos of a Grouse that joined the Trap Shooters for the evening. The noise did not bother the (real) bird at all. Big mystery.
---
The 2015 Gerald Manzo / Bill Freeman Memorial Trap Shoot raised $851 for ST. Jude Children's Research Hospital.
Thirty-Eight shooters participated in the event.

Winter Trap League Photos 2014-15