UPDATED – 8/30/22

NOTE!!! – RIFLE RANGE WILL BE CLOSED ON THURSDAY SEPTEMBER 8TH FROM 7AM UNTIL 3PM FOR MAINTENANCE!!!
IF YOU HAPPENED TO TAKE THE RED FLAG FROM THE RIFLE RANGE WITH YOU, PLEASE RETURN ASAP! THANK YOU!
ALL RANGES ARE NOW OPEN!!!! WELCOME BACK! PLEASE BE SAFE!!!
Just a reminder that our mailing address is Olean Rod and Gun Club, PO Box 213, Westons Mills, NY 14788.
LUCKY BUCK WINNERS AUGUST 2022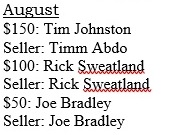 ___________________________________________________________________________________________________________________________________
– No tracers are to be shot on club property.
– We are in need of help cutting, trimming and push mowing the club grass. If you can help, please call Steve Wing at 716-378-6841. Your help is much appreciated. Thank You!
The winners of the Spring Raffle Drawing are as follows….
$1000 Steve Wing
$750 Adele Chisholm
$500 Vince Lisi
$250 Gary Waples
$250 Mike Mackey
CONGRATULATIONS TO EACH OF THE WINNERS AND AS ALWAYS, THANK YOU FOR YOUR SUPPORT!

The Olean Rod and Gun Club was formed in 1921 and is located at 2023 Wayman Branch Road in the Town of Olean, NY., P.O. address is P.O. Box 213, Westons Mills, NY 14788, Club House phone number is 716-933-6190. For additional information, see the History Page.
The "Members Only" page requires a password which can be found on your current Membership Card. Same as door combo.
The "Constitutional Rights" page is only for the people that care about lost Freedoms and the future Freedoms in the U.S.A.

Driving directions to the Olean Rod & Gun Club
If you're coming from the west, your GPS unit might suggest you take Indiana Avenue through to Wayman Branch Road. WE DON'T RECOMMEND THAT ROUTE. The upper end of Indiana is a seasonal limited-access road that's rough in the best weather. Instead, take East Riverside Drive to where it merges into East River Road. Go 2.5 miles, then turn right on Steam Valley Road. Go 1.4 miles on Steam Valley to Wayman Branch Road and turn right. Take Wayman Branch for 1.3 miles and you'll see the club building on the left.
Or if you're approaching from the east, take Route 417 east from Olean almost into the village of Portville. The distance is about 4 miles, depending on where you pick up Route 417. As you start to get into the village, you will see a Steam Valley road sign where the road travels over a bridge across the Allegheny River. After you cross the bridge, turn right at the T-intersection immediately across the bridge. Travel about 1 mile on Steam Valley Road until you reach Wayman Branch Road, which goes off to your left. (There is a sign for the Rod and Gun Club.) Turn left onto Wayman Branch, then travel about 1.3 miles. You will see the club building on your left.