THE JUNE MONTHLY MEETING WILL BE HELD ON MONDAY JUNE 1ST AT 7PM. THE BOARD OF DIRECTORS WILL HOLD THEIR MEETING AT 6PM.
TUESDAY NIGHT TRAP SHOOTING HAS RESUMED. WE ARE STARTING SHOOTING AT 6PM.
THERE WILL BE NO FISHING IN THE POND UNTIL JULY 1ST DUE TO ADDING 3 GRASS CARP TO THE POND. THEY NEED TIME TO GET ACCLIMATED. A SIGN WILL BE POSTED. THANK YOU FOR UNDERSTANDING.
THANK YOU TO EVERYONE THAT PURCHASED TICKETS FOR OUR SPRING GUN RAFFLE. LISTED BELOW ARE THE WINNERS! CONGRATULATIONS!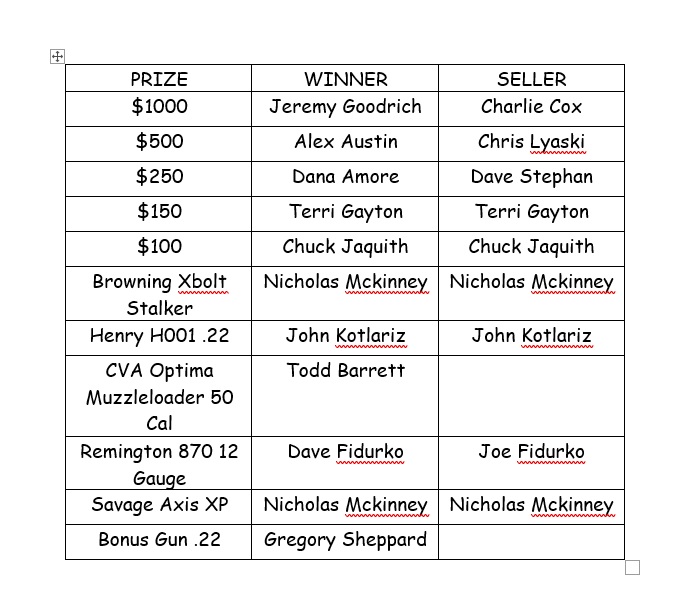 THERE HAS BEEN AN ISSUE UP ON THE RIFLE RANGE RECENTLY. IF IT WAS AN ACCIDENT, PLEASE NOTIFY ONE OF THE CLUB OFFICERS AS WE UNDERSTAND THAT ACCIDENTS HAPPEN. WE WILL BE INSTALLING A CAMERA UP ON THE RIFLE RANGE AND IF THIS WAS INDEED VANDALISM, ANY FURTHER INCIDENTS WILL BE PROSECUTED TO THE FURTHEST EXTENT OF THE LAW.
To become a member of the Olean Rod and Gun Club, call John Fahey at 716-474-0505 to setup an interview.
We have multiple projects that need to be done this spring. We will be having work parties as soon as the weather breaks. Please watch for the dates, we would appreciate the help!
When using our rifle range, please refrain from shooting our metal targets from 200-600 yards with 50 caliber rifle bullets due to the fact that they are damaging our targets.
As a result of the 2019 Memorial shoot, we were able to raise $1,400 for St. Jude Children's Research Hospital. Thank You to all that participated, donated and helped to make this annual shoot such a success.

The Olean Rod and Gun Club was formed in 1921 and is located at 2023 Wayman Branch Road in the Town of Olean, NY., P.O. address is P.O. Box 213, Westons Mills, NY 14788, Club House phone number is 716-933-6190. For additional information, see History Page or you may contact the webeditor@oleanrodandgunclub.org
The "Members Only" page requires a password which can be found on your current Membership Card. Same as door combo.
The "Constitutional Rights" page is only for the people that care about lost Freedoms and the future Freedoms in the U.S.A.

Driving directions to the Olean Rod & Gun Club
If you're coming from the west, your GPS unit might suggest you take Indiana Avenue through to Wayman Branch Road. WE DON'T RECOMMEND THAT ROUTE. The upper end of Indiana is a seasonal limited-access road that's rough in the best weather. Instead, take East Riverside Drive to where it merges into East River Road. Go 2.5 miles, then turn right on Steam Valley Road. Go 1.4 miles on Steam Valley to Wayman Branch Road and turn right. Take Wayman Branch for 1.3 miles and you'll see the club building on the left.
Or if you're approaching from the east, take Route 417 east from Olean almost into the village of Portville. The distance is about 4 miles, depending on where you pick up Route 417. As you start to get into the village, you will see a Steam Valley road sign where the road travels over a bridge across the Allegheny River. After you cross the bridge, turn right at the T-intersection immediately across the bridge. Travel about 1 mile on Steam Valley Road until you reach Wayman Branch Road, which goes off to your left. (There is a sign for the Rod and Gun Club.) Turn left onto Wayman Branch, then travel about 1.3 miles. You will see the club building on your left.